Trade fairs are all about business and winning clients over for your brand. With the adequate ambience you are on the right path – and we want to show you three examples of professional trade fair entertainment and what matters most to our customers at these events…   
01. Catching your eye: we offer premium acts for premium trade fair events
A lot of time and money goes into the design and staging of your trade fair appearance. The core values of your company are to be conveyed visually as well. And it is worth pursuing this thought in terms of live entertainment as well: which act might convince by sound and show and enhance the brand experience?
Example #01: DEEJAY PLUS @ IAA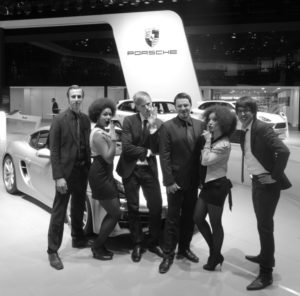 We are regularly accompanying various premium carmakers at the most important trade fair of the automobile industry. The keywords innovation, design and quality are picked up by our project DEEJAY PLUS in all imaginable combinations: the innovative set-up of live musicians and DJs, the professional crew, our very own 'floating' DJ console and the outstanding quality of our musicians. With over 175 bookings per annum they are amongst the most successful acts of the event industry.
02. We need a 'booth-magnet': but stress-free please!
Excuse me but where's the dressing room? When is catering available? We all know big trade fairs and that their rhythm differs from a well-operating event location. For any trade fair client, a smooth coordination of the band is as important as keeping an eye on the clock. Timeframes are often quite tight: official visitors are allowed until 17:30, but at 17.31 the booth party should ideally be in full swing to have big numbers of clients come and stay for a while:
Example #02: FOLLOW MEs @ BOOTHPARTY 'EVENTPARTNER WUPPERTAL'
A glorious example for stressfree but effective entertainment is our new walking band FOLLOW MEs: the band does not need any technical equipment and therefore no time for set-up or soundcheck. Moreover, the band is guaranteed to catch your clients' attention and will definitively live up to the band name & guide visitors to the booth.
03. …and sometimes the after-work beer with the client is most rewarding.
It doesn't have to be the loud booth party, but rather the quiet and relaxed get-together after a long day at the trade fair that can be most rewarding. Here it is all about creating a laid-back atmosphere that leaves enough space for interesting conversations.
Example #03: JAZZ 2 @ MESSE ESSEN // ATLANTIC HOTEL
As seen in the video clip, our 'gentlemen of jazz' supported the get together of guests after a tiring day at a major trade fair. Two or three musicians are more than enough to create a prestigious atmosphere: premium live music that remains subtle and thus enables networking and animated conversation.
___________________________________________________________________________________
There are three things we can do to support you at your next trade fair:
1. We present to you an act, that is musically and visually adaptable to your brand and concept.
2. We take care of a precise organisation and coordination of the show. 
3. We only offer professional musicians who know exactly what genre of music and volume are ideal for your specific event and wished-for ambience. 
Let's start with question number one: When are you planning your next trade fair and how can we help?