Choosing the perfect programme for your event can be quite a challenge: the music is supposed to be subtle, yet special, conversations and networking are in focus after a long day at a congress or trade fair and many guests are probably looking forward to a  relaxed finale to the day.  But what do you do when your guests are (unexpectetly) letting loose and want to shake their tired legs out on the dancefloor? Ideally you have a concept prepared for all scenarios that also fits the budget…
The solution? Booking a band that understands your worries and knows how to play premium live music regardless of what direction the night might take.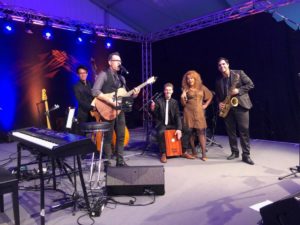 HAVE YOU MET MISS JONES have recently proven their qualities when working with our colleagues from agencies Pura and Des Wahnsinns Fette Beute. The quintett plays classics from jazz and soul music ("My Baby just Cares for me", "Fever" or "Sunny") and creates thus a premium atmosphere during reception and dinner. Once the bar opens and the first feet start to tap rhythmically under one chair or another, MISS JONES smoothly includes more pop  rhythms in their repertoire. And if that's not enough, they will charmingly hand over to one of our event DJs for the aftershow party with a musical transition that leaves the dancing guests unaware of where jazz ends and disco starts.
So my dear event managers, does that sound like your perfect solution? Get in touch with us and we happily reserve MISS JONES for your next event!