During the popular 'Dinner en Blanc', hosted by the Staatsbad Bad Oeynhausen, our musicians from HAVE YOU MET MISS JONES? had a gorgeous view from stage:  warm sunshine, picnic tables with a variety of delicasies and a sea of white-dressed guests and visitors. This year, HAVE YOU MET MISS JONES? were honored to accompany this special event under the blue sky musically.
The gorgeous MISS JONES radiated on stage in her white outfit and treated the guests to breathtaking interpretations of premium lounge and jazz music. The guests definitely enjoyed the performance and appreciated the relaxing get-together on a saturday night.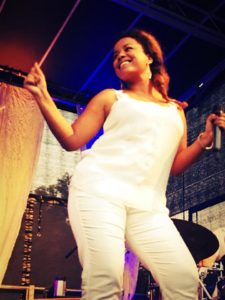 With sunset, the band picked up the rhythms and transitioned smoothly to the event DJ that would take over for the aftershow party.
… by the way, we were back in Bad Oeynhausen only a few weeks later: this time with our GOODFELLAS to celebrate the legendary Parklichtern 2018!
Are you still looking for the best-fitting act to your outdoor event? We look forward to your inquiry!