A summer party is a great way to thank your colleagues, employees and customers for their work throughout the first six months of the year. At the same time you can set the mood for the up-coming half.
Other than a cool location and tasty catering, you need to find the perfect band. We want to share three examples from real-life booking inquiries:
1) Barbecue, relaxed get together in the afternoon and some dancing when the sun goes down:
ROCKING CHAIRS – unplugged & beautiful
We definitely recommend the ROCKING CHAIRS as they are sending a clear message visually and musically: guests are welcome to settle down, get comfortable and enjoy an aperol spritz whilst having a good conversation.
2) Huge outdoor space, guests will be able to walk around freely, all age groups, all should have a good time: 
COMBO COMBO – moving entertainment
COMBO COMBO are great fun to have around. As a mobile band they don't need any equipment and can therefore move across the grounds. They provide a cheerful selection of songs wherever your guests are and would definitely work well at any outdoor family event!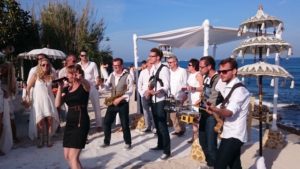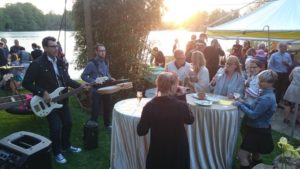 3) A shared dinner, a toast to employees and clients, animated conversations: 
SOULMATES – soul, pop, beautiful
Jea & Justin – a special musical couple. Their mixture of subtlety and wow-effect sets them apart from many other acts. The technical requirements are simple and don't need much space – so a clear recommendation!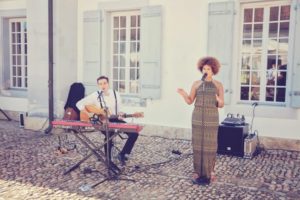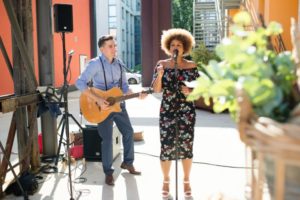 We will make sure to find the best fitting band for your summer party – don't hesitate to get in touch to receive individual consultation!