Many VIPs and over 400 guests celebrated the opening of the German Football Museum in Dortmund. The gala dinner was subtly accompanied by music from HAVE YOU MET MISS JONES?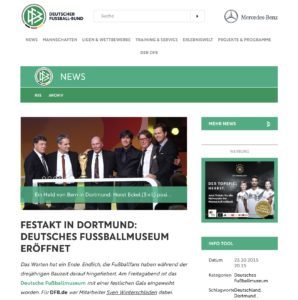 Not for nothing we call it the 'art of background music': acoustically you are required to stay in the background and yet have a presence on stage that provides an  ambience adequate to the location and festivity's occasion. The choice of music and the right selection of songs is what HAVE YOU MET MISS JONES? has perfected: be sure to get a wonderful 'soundtrack' to your event.
A top-class band and a breathtaking singer – in Dortmund we even went into extra-time with this combination!