After taking seven months of parental leave I'm now returning to my professional life. I'm looking forward to my old / new daily life in the agency. But let me share some of my memories with you for now. 
Parental leave – many opportunities and a shared decision 
The news that we were expecting a baby in May 2016 was received by a burst of enthusiasm from 'Mum" and 'Dad' just as much as from grannies, uncles, cousins and friends! Yippi, we were going to be parents!!
Fortunately, it takes nine months, so we had enough time to prepare, to furnish, to buy (oh yeah!!) and to make plans for our future life.
Naturally, we were faced with the question of how much family leave we would want to take? Time to research: the German Federal Ministry of Family Affairs published two whole books regarding parental allowance and it's different programmes (more information: www.bmfsfj.de). In different forums and blogs online we quickly realised that the most common way of going about parental leave: the mother taking all parental leave, the father only two months of so-called 'dad leave'. Those two months are then typicially spent travelling together – sounds awesome, right?
The father wants more though, he wants the whole deal, the full-blown daily-routine with a baby! I loved the idea and was happy with our final decision: "Half and Half / 7 months you, 7 months me".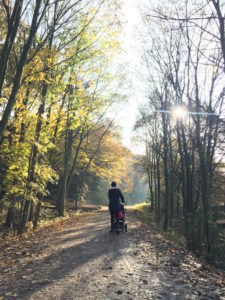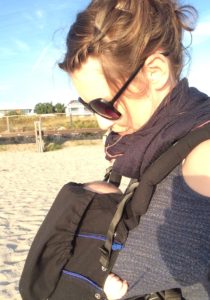 Half of our parental leave is over already!
And I look back on seven wonderful, exciting, cozy, sleepless and enamoured months with my gorgeous baby girl. We definitely made the best of our shared time – enjoying cozy times of confinement after childbirth, seeing friends and family, the first vacation, walks, walks, walks and our first christmas as a family. I could go on forever.
Now it's time for daddy to take over and let him watch her grow and discover the world – what a wonderful task!
So, I'm back!
Hello desk, hello laptop, hello lovely colleagues: I'm happy to be back! I need some time to re-adjust, so thank you for the opportunity to slowly up my working hours and allowing the three of us this time of transition.
Well, all right: Dear musicians, dear partners, dear clients, I look forward to you all!
And we might possible see each other quite soon?
On 18 and 19 January 2017 I will be at our trade fair booth at the Best of Events in Dortmund and I look forward to all those familiar faces.
We do have some guest tickets, so if you're interested please email me at:  gesa@music4friends.de.
See you soon,
Gesa Niessen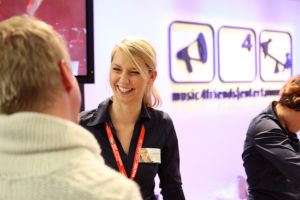 Are you planning an event? I happily consult you and offer the matching act.